What Four Things  To Consider Before Buying a Business or Home Safe
1. What Do You Need Your Safe to Protect?
Safes are made of different materials to protect certain valuables. Safes made to protect data or cash from fire are made differently than safes made to protect plastic,  or safes to protect from forced entry.
Media Safes vs. Data Record Safes
Fire resistant media safes are specially designed to protect electronic media such as tapes, videos and DVD's. Electronic Media is typically made of plastic therefore more sensitive to heat and humidity. These safes are constructed differently than regular data records safes so please take the following things  into consideration when purchasing your safe.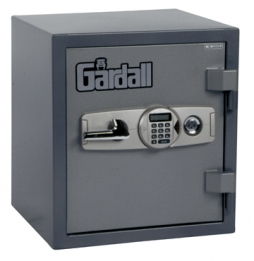 Gun and Fire Arm Safes
If you own firearms, you need a gun safe In Massachusetts as one can  face potential liability if their firearms  are stolen and used in a crime.  Massachusetts, along with many other states, encourage gun owners to purchase safes by offering a tax free incentive to do so.  Secure Lock and Alarm has wholesale dealer relationships with many  manufactures that provide quality safes such as Gardall, Hollon, and  Amsec. One needs to consider the types of guns that will go into the safe or vault as this will make a big impact on the size of the safe needed. Don't just take into consideration what type of fire arms need to be protected today,purchase a gun safe that you can grow with over time. Guns with long barrels and scopes have different needs than hand guns and pistols. To see compare gun safes visit our   on-line safe store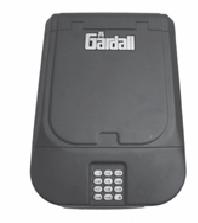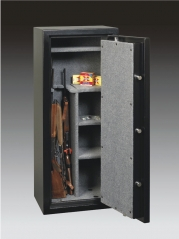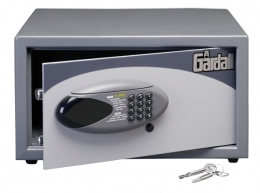 How Do Fire Proof Safes and Fire Resistant Safes Work?
There is actually no such thing as a fireproof safe, but appropriately tested fire resistant safes will protect your valuables and important records. Paper begins to char at 420 degrees and the average house fire would burn in the range of 1,100 – 1,200 degrees. Fire Resistant safes are designed with a special material to release moisture during a fire in order to keep the internal temperature of the safe or vault at about 350 degrees. When choosing your safe, you need to decided if you would like fire protection rating to be UL 30 minutes, UL 1 hour, UL 2 hours, or UL 3 hours. When a safe is UL rated, it has been tested to endure these coinciding temperatures as long as it has not been tampered with in any fashion. This is the major factor in determining price. Our Secure Safe Store  to review the prices differences.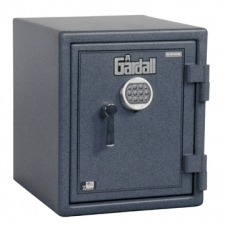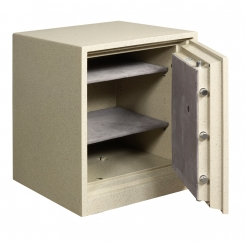 3. Where will You Keep Your Safe or Vault?
Are you protecting a small amount of cash or jewelry? Then maybe you would need a simple wall safe or floor safe. When purchasing a wall or floor safe, one needs to consider the thickness of the wall construction or the building materials of the floor. Secure Lock and Alarm can consult you on the these critical decisions  prior to the installation of the safe. For example, will your safe need to be bolted to the floor? How will the stud placement in the wall affect the installation? There are also construction concerns that may need to be addressed. .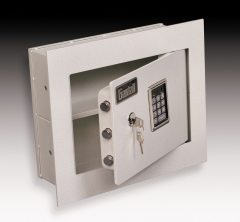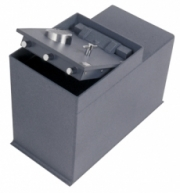 4. How Do You Want Your Safe to Open?
Safes can be opened in multiple ways: with a key, with a dial combination, keypad combination, or with biometric capabilities. All  types of safe opening devices have advantages and disadvantages and Secure Lock and Alarm can explain them to you in detail.
Safe Repair, Safe Opening, or Safe Cracking
Carefully pick your safe cracker, it can save you a lot of money in the long run. If your safe key is lost or the safe combination is not known, our technicians can get into the safe more often than not while protecting the integrity of the safe. The goal of safe cracking is to open the safe without damaging the safe or its contents. In difficult situations, drilling is needed to gain entry and a technician that is not properly trained will most likely ruin the product and it will be rendered useless thereafter. Secure Lock and Alarm has  invested in specialized safe opening equipment such as a safe auto dialer that help open safes without damage. The owner of Secure Lock and Alarm, Keith Bedrossian, attended the North Bennett Street School in Boston's North End and majored in Locksmithing. Upon his graduation in 1996, he was awarded the award for " Best in Manipulation." This is a Locksmithing term for safe opening and problem solving. Keith is often called upon by other Locksmiths in the North Shore to help them open safes for their customers.
Buy On-Line and Buy Local
We are a local company that offers the convenience of purchasing  a safe online while offering the satisfaction that you are supporting your local business community by buying local. Our customers have the peace of mind that they can find us when they need to and that we can service their needs quickly. We can ship the safe to your home or business and if you live within 20 miles of Beverly MA, we can deliver and install your safe for an additional charge. Please either visit our Online Store, visit us at our showroom in Beverly, or call us at 978-927-6400 for shipping details. Go with a local company you can trust. All our products and parts are backed by the manufacturer's warranty plus our personal guarantee, which has contributed to our success for 20 years.