By: Alex Bedrossian
Secure Lock and Alarm was founded in 1996 by owner Keith Bedrossian. Keith grew up on the North Shore of Boston and graduated from The North Bennett Street School in 1996 where he had majored in locksmithing. Graduating at the top of his class, he earned the "Best in Manipulation Award." The field of locksmithing requires superior problem solving, which Keith has exemplified many times. Keith decided to start his own business because he was "tired of working hard for other people." He chose the field of locksmithing with a suggestion from his father. Through starting his own business, Keith learned that all the important decisions were made by him, and he could no longer depend on his superiors to make the right choice.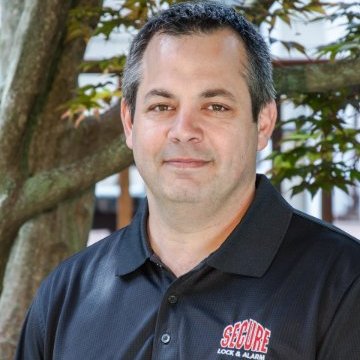 Growing up as a child with a learning disability, Keith learned that being successful isn't just about what you learn from a textbook, but is dependent in part, on the relationships you build with people. Knowing that, Keith focused not so much on textbooks, but worked on building priceless relationships that will outlast any knowledge he would have gained from a textbook.
Keith works alongside his wife and partner Shelly Bedrossian and his two employees Brian Fay and Dave Ambler. Keith started his business under the name of Secure Lock and Safe in 1996 and changed it to Secure Lock and Alarm with the addition of his alarm work in 2009. For the first nine years of his business he worked alone, but hired his first employee Brian Fay in 2005, and Dave Ambler this year.
In a recent interview with Keith, we asked about his motivation to keep the business going, and he told us a story about the beginning of his business. The summer that Keith started his business, his grandfather was very sick in the hospital. When Keith went to visit him, he brought him a Secure Lock and Safe shirt, and his grandfather, a fellow business man, showed it to all his nurses saying, "This is my grandson, he owns his own business." To this day, Keith has a picture hanging on the wall at his store in Beverly and is continuously using his grandfather's struggle as a reason to keep going.
During the economic recession of 2008, Keith went back to school to prepare for the inevitable economic rise that would follow the recession. While in school, Keith learned to install access control systems, cameras, and burglar alarms.
Secure Lock and Alarm is based in Beverly, but also does work in Danvers, Salem, Lynn, Swampscott, Marblehead, Reading, Woburn, Burlington, Peabody, Gloucester, Cape Ann, Essex County MA, Middlesex County, and Suffolk County. They can be contacted by phone at 978­927­6400, or by email at Sales@SecureLockandAlarm.com. They also have a store in Beverly at 52 1/2 Bridge Street, Beverly, MA 01915.