Locked Out? We're Here 24/7 for Emergencies
Nothing is more frustrating than being locked out of your home, or having to wait for your new locks to be installed. With Secure Lock and Alarm, there is not need to wait. As home lock and lock hardware experts we service and install almost all lock systems, whether for added safety measures against intruders or ease of access for yourself.
What To Know When You Are Locked Out of Your House – ABC News

ABC Breaking News | Latest News Videos
Ensure Home Safety
Since 1996, we've been helping people like you protect your family and belongings. With our lock re-key and mobile locksmith services, you'll enjoy quick turnaround on repairs. With 24-hour service, you're always covered. Lock re-keying and replacing doesn't always happen at convenient times! With our 24-hour locksmith service, you can call us when you need us instead of having to wait until the morning. We repair and install of all types of residential locks.
Enhanced Home Security and Accessibility Solutions
This may sound simplistic but the best way to protect your home is to have high quality locks and actually use them. We sometimes get lulled into a false sense of security because we live in fairly safe communities. Frequently, it is not that a home was broken into, but rather that the intruder walk-in because the doors where not locked
There is a big difference in the quality of locks sold in "Big Box Stores" opposed to the locks provided by professional locksmiths. Often times quality and security features are dumb-down to meet the price points needed for these type of establishments. We only order from reputable locksmith supply houses. All of our products are back by a manufacturers guarantee as well as our personal guarantee that has contributed to our success for the last 19 years.
Why Installing a Deadbolt at Home is a Smart Idea
A deadbolt or deadlock offers a heightened level of home security because a deadbolt cannot be moved to the open position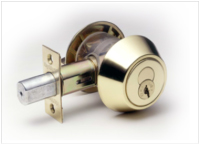 except by rotating the lock cylinder. The more common and less secure spring bolt lock uses a spring to hold the bolt in place, allowing it to be opened by applying sheer force to the bolt itself. A deadbolt can therefore make a door more resistant to entry without the correct key. High Security Deadbolts come in single cylinder and double cylinder options. Call today and our certified locksmiths can tell you which one is better for your needs.
Electronic Locks For The Home –  Never need a Key Again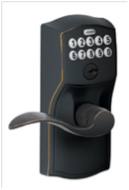 Install a Key-less door lock or electronic deadbolt and say goodbye to hiding keys under the doormat. Say good-bye to being locked out because you lost your keys.
With a digital door lock, coming and going is key-less, effortless, and painless. There are many shapes and sizes so that we can keep consistent with your home decor. Your locks should look as good as they lock!
Call Secure Lock and Alarm at 978-927-6400 to replace, repair or install your doors locks today.