Home Fire Alarms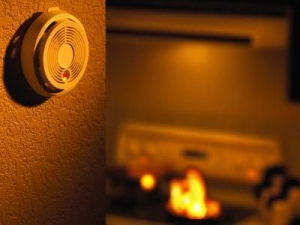 There is a huge difference between smoke alarms and they all do something different when protecting your home from fire. Commercial fire regulations are very different from those of residential homes and  and multi-unit apartment buildings, so please take this into consideration as you read the information below. We recommend having both ionization and photoelectric fire alarms in your home as well as having those smoke detectors monitored by our central station.
Ionization Fire Alarms vs. Photoelectric Fire Alarms
Ionization fire alarms are more responsive to flaming fires opposed to slow smoldering fires. Photoelectric smoke alarms are generally better suited for fires that have long smoldering times that release smoke clouds and a large amount of dust particles. In these slow burning and smoldering fire situations, ionization  alarms will trigger eventually, however the response can be delayed up to ten minutes. Ionization residential smoke alarms are no longer allowed as the only type of residential smoke alarms in Massachusetts.
Low Voltage ionization and photoelectric smoke detectors can be monitored by a professional alarm company the same way that a burglar alarm is monitored. This is a really important point to understand. A properly function unmonitored residential fire alarm will release the sounder and hopefully alert the folks in the property. A monitored residential fire alarm alerts the residents and dispatches the fire department at the same time.
How Ionization Smoke Alarms Work?
Ionization smoke detectors are the most commonly used type for a residential application and will typically respond 30 to 90 seconds faster to a flaming fire opposed to a photoelectric alarm. According to the National Fire Protection Association, these alarms have a small amount of radioactive material between two electrically charged plates, which ionizes the air and causes airflow between the plates. Small amounts of smoke can enter the chamber, thus disrupting the flow of ions, which reduces the flow of current which activates the alarm. Ionization alarms are known to give off  many false alarms, mostly from cooking and the steam from hot showers.
How do Photoelectric smoke alarms work?
These alarms are much more responsive when a fire begins with long periods of smoldering opposed to a quick flaming fire. Photoelectric alarms will respond 15-50 minutes (Yes Minutes) faster than an ionization alarm when there is a flaming fire. Photoelectric-type alarms aim a light source into a sensing chamber. As smoke enters the chamber, light is bounced onto the light sensor which triggers the alarm.
Is Your Home Compliant with Massachusetts Fire Code?
The residential fire alarm code changed drastically in  April of 2010. If you have purchased your home after 2010, then you most likely have the correct equipment. Conversely, if you purchased your home prior to 2010, we suggest revamping your equipment.  Most homeowners believe they can go to a big box store, buy a $6.00 alarm and an extra set of batteries and be covered.  There is a major difference in life safety by having a professional fire alarm company install and monitor your alarm system. Our recommendation is to install dual smoke alarms that are built with both ionization and photoelectric properties. These multifaceted  units can run up to $100.00, however  we believe the extra investment is well worth it. Contrarians would argue  that these alarms shouldn't be used because they can be a nuisance due to false alarms because of the ionization sensors. This is an obvious possibility, however proper placement of smoke alarms can reduce these incidents. The question is, would you rather have a false alarm when you burn your bacon, or not have an alarm triggered when you really need it in order to protect your family and precious material goods.
Massachusetts Smoke Alarm Regulations
These revisions took effect on April 5, 2010
These regulations apply to buildings undergoing sale or transfer containing up to five residential units. The regulation requires photoelectric smoke detectors within 20 feet of a kitchen or bath containing a shower. Areas located beyond 20 feet will be required to contain dual detection by either a single unit or two separate units. Enforcement of these regulations will take place when the residence is sold or transferred. Home owners that sold their homes after April 5, 2010 have had to meet these new requirement upon a real estate transaction. The problem is that if a home has not been sold after this date, there is a high likelihood that the building is not outfitted correctly. Visit the Massachusetts Board of Fire Prevention Regulations for a complete set of standards.
Are Your Residential Fire Alarms Installed Correctly?
Choose smoke alarms that have the label of a recognized testing laboratory such as Underwriters Laboratories (UL)
Install smoke alarms inside each bedroom, outside each sleeping area, and on every level of the home, including the basement
On levels without bedrooms, install alarms in the living room and near the stairway to the upper level.
Smoke alarms in the basement should be installed on the ceiling at the bottom of the stairs leading to the next level.
Smoke alarms should be installed at least 10 feet from a cooking appliance to minimize false alarms when cooking.
If you have ceilings that are pitched, install the alarm within 3 feet of the peak but not at the apex of the peak
Don't install smoke alarms near windows, doors, or ducts as drafts may interfere with their operation.
Never paint smoke alarmsFor best protection, interconnect all the alarms, so if one sounds they all sound. For this to occur, all alarms must be from the same manufacturer.


Commercial Fire Alarms

Business Fire Alarms are a completely different animal than residential fire alarms. We are a Firelite certified company and can design systems from scratch for new installations or upgrade current systems for today's regulations.

Well Versed in differing town regulations
Addressable Systems
Design Custom Systems
Fire Alarm Testing
Fire Alarms Emergency and Exit Lights
Flood detection systems
Carbon monoxide detection systems