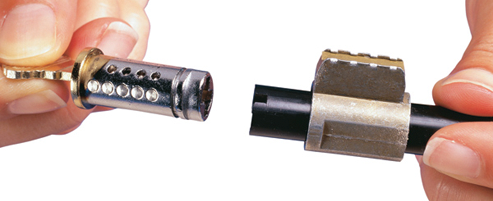 Have you ever lost or loaned a key to someone who either misplaced it or just never gave it back? It would be unfortunate if that key wound up into the wrong hands; our re-keying services will provide you with a completely new set of keys, rendering those lost keys useless!
Why would you want to invest in our re-keying services? Check out some of the top reasons to re-key your locks in your home or business:
You just bought a new home
One of your keys has been Lost, Stolen, or not returned
Increase your Home's Security
If you're remodeling or Updating your Home
How Does Re-Keying Work
Well, to put it simply, we adjust the tumblers in the existing lock so that the old key no longer has the ability open it. When we provide our re-keying services, we can also provide you with a master key. A master key is perfect for commercial, property managers, and municipalities. These master keys are restricted and designated to the administrators of the account. The admins have the power to make multiple master keys, and distribute them among employees, if they so choose to. This Super Key makes allows owners and property managers to access any door with one key, limiting the amount of keys on their key chains! You will no longer have a key chain filled with different keys; nor will you have to fumble in the cold trying to find the right key to open your front door! Think of the convenience of having one key that opens every single door and lock!
Don't let that missing or lost key keep you up at night; feel more secure and safe by asking about our re-keying services! Protect your property, and most importantly, your family, by investing in new keys for your home or business.
For a free estimate, or for more information about our re-keying services, please give Secure Lock & Alarm a call at                    978-927-6400. We are looking forward to helping keep your home or business safe and protected from intruders!