Monitor and Control Entry and Traffic Flow
Our door access systems allow you to monitor and control the readers, relays and door position of each door in the system, or all doors simultaneously. If security has been breached anywhere in the system, a designated authority will know precisely where and when. If you are suspicious of a particular employee, your system can report an audit trail of all card reader activities. You can effectively manage and track your company's visitors, ask the system to email or page someone when a breach occurs, or interface your access control system to your HR database. If security has been breached anywhere in the system, you will be shown precisely where and when at a moment's notice.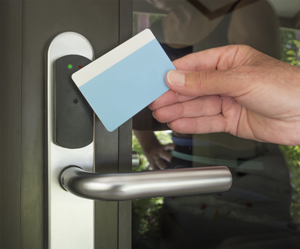 Access Control Key Benefits
Retailers, bankers, and health care providers control access to cash, prevent inventory shrinkage, and manage critical supplies.

Educators safeguard equipment and supplies.

Restaurants can secure the back of the house.

Apartment Complexes and Property Managers can insure tenants that their living in a safe environment.

Offices can securely store classified materials.

Freight providers protect goods in transit to cut cargo loss.
Offering All Types of Card Access Systems
Card and badge readers
Bio metric access systems
Proximity readers
Visitor badge  system
Bar code and magnetic strip cards
Biometric smart cards
Photo ID cards
HID cards
Anti-Passback or First In/ First Out Feature
Secure Lock and Alarm installs access control systems that work with a wide range of card readers. Flexible design along with the use of multi-technology companies allows you to mix and match technologies.
If you are a Fortune 500-size company, independent business, hospital, school, college, government agency or other organization, you can control and manage your access control system from anywhere on your network. No matter how large your organization, no matter how many sites you have, Secure Lock and Alarm can provide you a powerful system that adapts to your unique requirements. We install many types of access control systems however we specialize in Keyscan and Rosslare. These manufactures cover a wide range of our customers needs and are very well respected products within the security industry. A snapshot of features and benefits of these systems are listed below.
Rosslare  Access Control System
Rosslare is a state of the art network based access control system that is ideal for small and medium size businesses. It is a budget friendly, powerful, user-friendly, and flexible option.  The systems range from single door applications up to 8 door systems. Their proximity readers are certified for compliance with all leading International Safety and Access Control standards.  This is the ideal system for small medical offices, small businesses that need to protect equipment and data systems, and monitor employee theft and traffic.
FIFO history event log when offline
Up to 30,000 users
Outboard  TCP/IP Networking
Supports both 1 door (In/Out) and 2-door (In/Out, In/In, and Out/Out configurations)
Cable cut tamper detection for readers and cover tamper detection for the enclosures
Product Reports from acquired data, such as exit and entry times,  and alarm types with filters for users, location, and time
Enables management of user data, photo ID cards with custom fields,access rights, alarms, strike times, and door mode from a central location.
Identification Card and photo badge options
Convenient 2-door, 4-door, and 8-door kits. Kit specifics will vary slightly but we will review those on your estimate
                                                   Rosslare 4-Door Package  Contains
                                   Controller, 4 proximity Readers, Software, and 100 Cards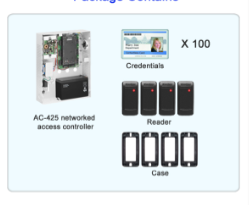 Keyscan Access Control System
 Industry-Renowned for product quality, versatility, flexibility, and scale-ability. Ideal for small regional enterprises,medium to large businesses , and warehouses that need an extra layer of security.

Windows Based Software

Multiple -monitor workstations and communication modules

Emails alarms and critical messages to PC's cell phones or other mobile devices

Transactions reports and data recovery capabilities

Allows for on-going expansion without requiring more software.

Anti-Passback or First In / First out options

Optional K-web feature allows for remote access and control management for single or multiple sites  from anywhere in the globe

Optional K-Badge feature gives the added edge by verifying card holder identities with

Optional K-VIS CCTV video surveillance integration.
Is the Anti-Passback Feature Right For Your Business?
The anti-passback feature is designed  to prevent fraudulent activity in offices, gyms, warehouses or other facilities protected by an Access Control System. It is a setting on the access control system that will prevent a card, fob, or pin code from being used twice  to gain access through a door without exiting the monitored door first. This is frequently used in high security medical situations. We recently installed the anti-passback feature for a  room holding the prescription drug cabinet for a small nursing home. The facility owners wanted to verify who was exactly in the room at all times. With this feature a worker would need to swipe their card to enter the room and swipe to exit the facility. If  the same worker were to pass their card to another employee and that employee tried to swipe the card to enter prior to the first user swiping the card to exit then, the system would be triggered. This is referred to as a First In/First Out option. Larger buildings with multiple points of egress may want to  restrict which doors are used to exit the building. Anti-passback access control is not the best option for all businesses and we can review those features and benefits when we come do your complimentary estimate.
Security To The Next Level With Photo-badging 
Photo-badging allows a company to use their Access Control System and proximity cards as an ID badge as well. This is ideal for companies with many employees or with companies that have an external security desk that monitors employees prior to "swiping" into the interior office space.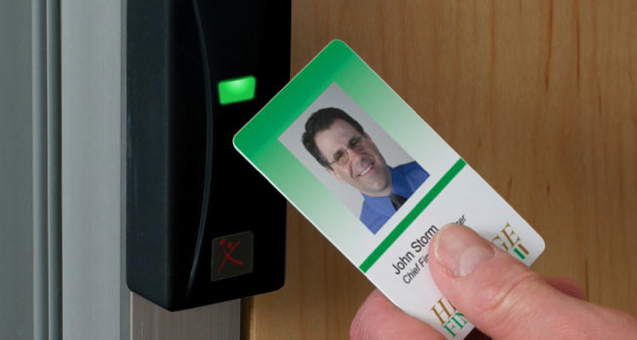 Call Secure Lock and Alarm at 978-927-6400 for a free card system assessment and estimate or email us at sales@securelockandalarm.com.