Every person, be they an employee, visitor, student, driver, or customer must be accountable for their time while being able to perform their responsibilities in a secure and controlled environment. At Secure Lock and Alarm we have been providing a complete suite of commercial and municipal security solutions for over 16 years. From Commercial Locksmith Solutions, Door Safety and Repair, ADA Compliant Hardware, Access Control Systems, Camera Surveillance Systems or Commercial Alarm Systems. We are your One Stop Security Shop.
Key Control
Key Control is perhaps one of the most important aspect of a Commercial Security System. Ordinary Keys can be duplicated at discount stores and hardware stores anywhere. High Security Keys such as Mul- T- Lock Keys, Best Keys, Peaks Preferred Keys, Restricted Keys and Master Key Systems can only be duplicated by professional locksmiths with permission from your pre-authorized decision makers. This means YOU CONTROL who has your keys.
Master Key Systems – Keep track of only one key
If you manage or need access to a building or apartment complex with multiple buildings and entries, too many keys can become a hassle, not to mention hard to keep track of and heavy to carry. In a key control system, each lock is still opened by an individual key maintaining safety and security to tenants and residents throughout your office park or condominium complex. Master key systems just makes it easier for property managers.
Mul-T-Lock, Peaks Preferred, and Restricted Keys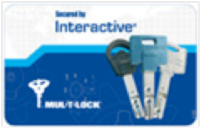 Mul-T-Lock's triple locking mechanism  key format provides enhanced key control by utilizing patented keys. In order to make or copy these high security keys, one must a key order card with the unique authorization code. This card must be present at the time of duplication as the  of a magnetic strip on the back of the card must be swiped in  key cutting machine. Mul-T-Lock high security keys  also offer enhanced resistance to picking, drilling, bumping and other forms of lock manipulation. Choose this solution for applications that require advanced physical security and protection against unauthorized key duplication.
Deadbolts and High Security Locks
Medeco, Schlage, Arrow, & Kwikset Deadbolts are made with quality craftsmanship for commercial applications. They protect the US government and military installations, as well as universities, hospitals, banks, offices and homes around the world. Common pin tumbler locks can easily be picked open very easily. High Security Locks and Deadbolts have patented UL-listed designs that make security compromise virtually impossible. When you need high security protection, don't rely on an ordinary lock invest the few extra dollars for the extra peace of mind.
Mechanical Push Button Locks
Simplex Mechanical Push Button Locks offer  key-less access convenience for a variety of doors, storage containers, and commercial cabinet applications. They are durable for both inside and outdoor installations. They are an easy way to control access between public and private areas as there are no keys or cards to manage, no computers to program, or no batteries to replace. Combinations can be changed in seconds without removing the lock from the door. The disadvantage to mechanical push button locks is the codes can be given out to unauthorized users very easily, thus decreasing your security level.
Electronic Push Button Locks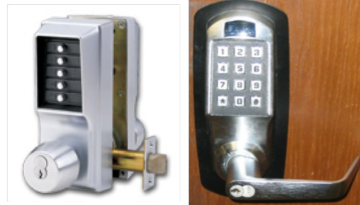 Electronic Locks operate by means of electric current. Sometimes electric locks are stand-alone systems with an electronic control assembly mounted directly to the lock. Other times, the electric lock is part of a larger Access Control System. The most basic type of electronic lock is a magnetic lock, more commonly called a mag lock.
Panic Bars or Crash Bars

Panic bars are a form of a lock used to unlock a door during emergency conditions. When the lever is either pushed or depressed, it activates a mechanism that unlatches the door allowing occupants to leave quickly from a building. These types of exit devices can typically be found at Emergency Exits which are required in most public buildings due to fire and building codes. Panic hardware is often required by OSHA, and in most municipal settings in order to comply with the National Fire Protection Association Life Safety Code (NFPA 101) and with the National Electrical Code (NFPA70). Secure Lock and Alarm is staffed by Licensed Low Voltage Electricians, so we are up to date on how each commercial installation needs to be done in order to comply with local codes.
Secure Lock and Alarm will help you with all your lock needs. We also have a mobile locksmith available 24 hours. Call 978-927-6400 to discuss your options.