Get the proper door hardware to meet current ADA regulations.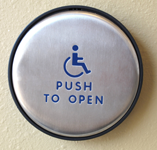 If you are confused by the standards for accessible design under the Americans with Disabilities Act, we can help. This Act ensures access to all, regardless of ability or disability, in commercial and public places. The Act signed in 1990, details how building owners can upgrade doors, handles, and entry ways to provide access for the disabled.
Get the proper door hardward and mounting systems.
Federal Law governs the specifications for handicap handles, pulls, latches, lock, as well as door opening force and closing speed. Hardware must have a specific shape and design as well as be mounted no more than 48 inches from the floor. Automatic doors are regulated by the speed which the door can be open and closed. At Secure Lock & Alarm, we have you covered.
Other Commercial Door Repair Services Provided By Secure Lock and Alarm.
We are a Full Service Door Locksmith so call us with any questions.
Deadbolts Installed
Lever Sets
Mortise Locks
Door Knobs and Knob Sets
Commercial Storefront Doors
Broken Push/ Pull Paddles
Automotive Door Openers
Need to get the proper entry hardware for your business? Call 978-927-6400 today.