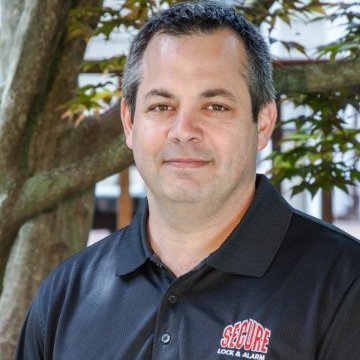 Secure Lock and Alarm was founded in 1997 by Keith Bedrossian in Beverly Massachusetts . Keith graduated from Marblehead High School in 1991 The North Bennett Street School in 1996 where he had majored in locksmithing . Graduating at the top of his class, he earned the, "Best in Manipulation Award" which celebrates the person with the most superior problem solving skills. He chose the field of locksmithing at the suggestion of his father. Keith decided to start his own business because he wanted to call his own shots. He prescribed to the adage that the definition of an entrepreneur is anyone that would rather work 80 hours a week for themselves so that they don't have to work 40 hours for someone else and be bored.
Growing up with a learning difference, Keith knew that being successful isn't just about what one learns from textbooks, but is dependent, in part, on the relationships one builds with others. With this instinct, Keith focused on building priceless relationship that outlasted any knowledge that he would have gained from textbooks. When asked what he thought were three key ingredients to a successful business, Bedrossian offered the following insights. Be prepared to work consistently and persistently for the first 5 to 10 years. "Anyone that thinks that it is easier to work for themselves is foolish." Bedrossian Chuckled, "Yes I have more freedom; the freedom to choose which 12 hours a day that I want to work."
The second key ingredient is to know what you do well and, more importantly, higher people to do the things that you don't do well. Part of Keith's learning difference is that he has challenges with organization and dyslexia all while scoring in the 98th percentile in problem solving and deductive reasoning. Hiring someone to do paperwork and to set up organization systems made a huge impact on his bottom line.
The third main ingredient is to continually improve your skillsets and make sure that your business is ahead of current trends. Anticipating the economic recession, Keith retooled and expanded his suite of services to included video surveillance systems, card swipe access control systems, Brivo cloud based security, and burglar and fire alarms.  Bedrossian states, I sensed that the Locksmithing Industry, although still profitable, wasn't going to grow at the rate that security would be growing when the economy turned around. He believed that Locksmithing and Security make a perfect marriage. Typically, his competitors that also do security systems, must outsource the lock and door portion of security installations to a Locksmith. By offering total property protection, Secure Lock and Alarm can be a "One Stop Security Shop" Their commercial and municipal clients love this advantage because they can make one phone call to solve all their problems.
In a recent interview with Bedrossian I asked him about his motivation to keep the business going and he told me about a story from the beginning of his career. The Summer that he started his business, his grandfather was very sick. When Keith went to visit him in the hospital he brought his grandfather a new Secure Lock and Safe shirt. His grandfather, an Armenian immigrant and fellow entrepreneur, showed the shirt to all the nurses and boastfully said, "This is my grandson and he owns his own business." To this day, Keith has a picture of his grandfather standing in front of his dry-cleaning business that was in Queens NY. The picture has a prominent position on the wall in his store on Bridge Street in Beverly. He continuously uses his grandfather's expectations and pride as inspiration and a reason to keep persisting. Bedrossian is a 4th generation business owner so there was a tremendous amount of pressure to succeed and keep the tradition going.
Secure Lock and Alarm is based in Beverly, MA on Boston's North Shore and they do work all over Boston and Eastern Massachusetts. They can be contacted by phone at (978) 927-6400 or by email at sales@securelockandalarm.com or www.securelockandalarm.com